Walking Around
on serendipity, kind of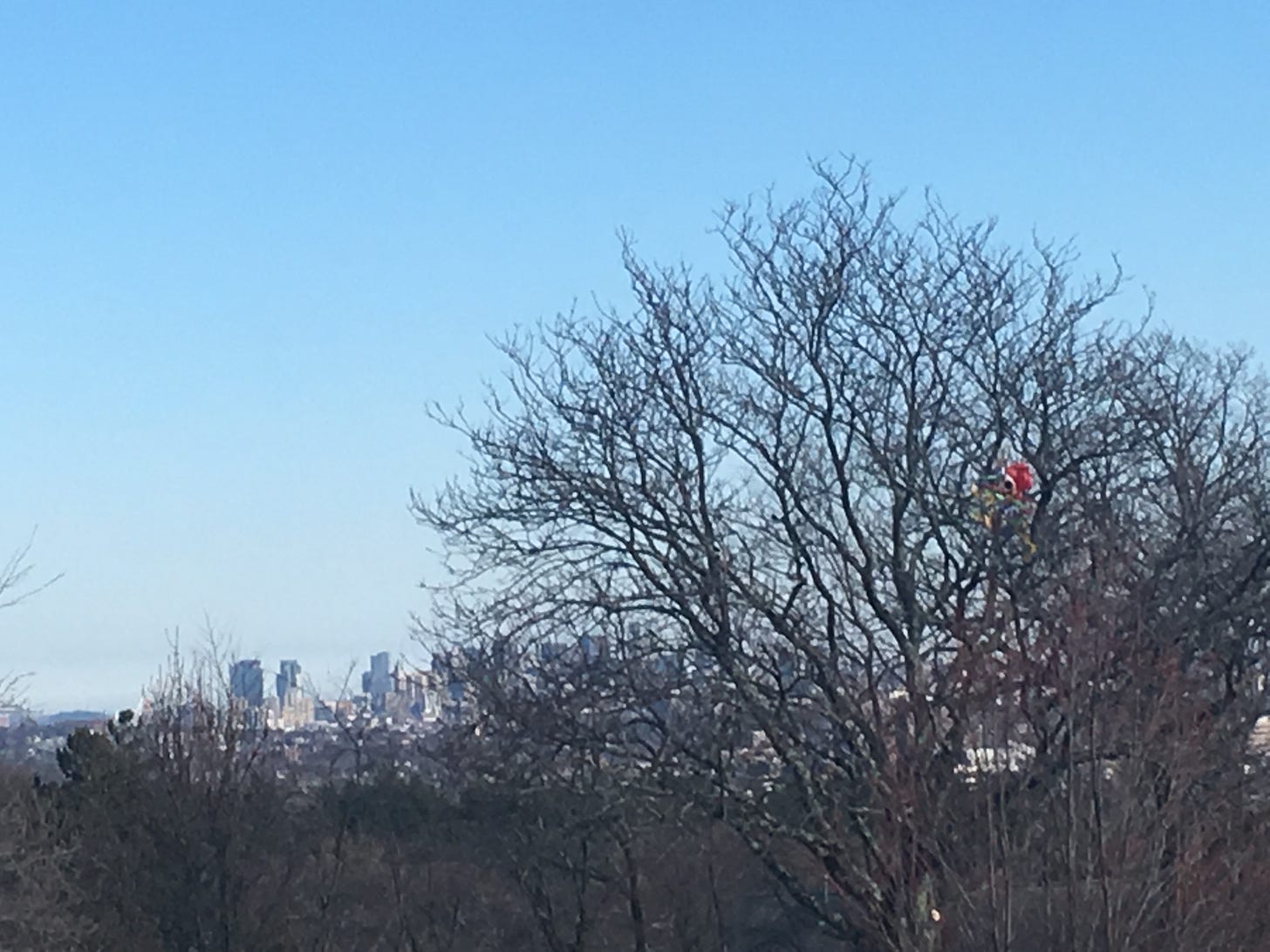 I miss serendipity. Or maybe I miss unexpectedness. I take long walks now, like an old person. Just to get out of the house. This is the first time I have ever been grateful for the suburbs. I like the neat pretty houses and the sidewalks and the trees and flowers and relative lack of population density. I have always found suburbs morally and aesthetically repugnant. I am apparently over that now that it suits me. It is good to know which of your objections are moral and which are aesthetic. It is hard to know which of your objections are moral and which are aesthetic. I think I am maintaining my moral objections — the fact that the built environment of the suburb exists because of white supremacy and car culture — while caving on the aesthetics. I hope that's true. It sounds better than the other way round.
Sometimes I walk to a park on top of a hill and sit on a park bench. No book, no phone: again, like an old person. I look out at the view of Boston's skyline that I now know well. "Ah, the big city!" I think, somewhat ironically. I do not aspire to Boston. I wonder if I would, had I grown up here.
Sometimes I walk to another park, one with big rocks and a pond. The pond has ducks and turtles. The park has flowers and nice stone benches. Something about it makes me fantasize about weddings. Having one. Going to one. Seeing one. At this point it all seems the same.
Sometimes I walk to a small wooded area behind the elementary school where someone has built a fort out of branches, and someone has built a memorial — a cross, a photo, a rosary — to their father, who is dead.
I used to walk along Mass Ave to go to a coffee shop or a restaurant or the movie theater. Even if you didn't mean to go to any of those places, you used to be able too. I am the kind of person who can only write about trivial things. My mom and I would take long walks and then recharge at Caffe Nero with an iced coffee and a bathroom break before trekking home. My parents love Caffe Nero. I remember being really disappointed when I got to London and realized that Caffe Nero there is like Starbucks. I thought it was something kind of special, a small chain most people didn't know about. I thought it had genuinely good coffee. I guess I still think that.
I'm thinking about the times I used to google "best x in x." Best coffee shop in Kentish Town. Best bistro in Montmartre. Best happy hour in New Haven. Best barbecue in Terlingua. I'm thinking about how much I hated googling "best x in x." It was unwieldy and inefficient and embarrassing and I knew that, in doing so, I was contributing to the fetish for authenticity mixed with spectacle that characterized the tourist economy of the late 2010s. I'm thinking about how "the late 2010s" now seems like a distinct historical period. Like now that it's over, it's really over. Like Joan Didion wrote about the sixties. Like when Charles Manson killed all those people in Hollywood. Like the tension broke. Like it's breaking still.
I'm thinking about the times I didn't google and how much better they were. That cafe in Kentish Town. That bar in the West Village. I mean. Sometimes it was better. Sometimes it was worse. It is difficult to choose randomness over certainty. It is difficult to forgo certainty if you think you can have it. I always want to trust that if I need a coffee shop I can walk in any direction and find one. I usually don't, though, because I'm risk-averse and faithless. There's never a coffee shop when you need one. A bathroom when you need one. An outlet when you need one. I believe this. I have proved it, empirically, several times. So I google. And once you google, you might as well google the best.
In London I couldn't google because in London my phone didn't work. Not on the go, not without a steady internet connection. One night I decided to wing it. I did not wing things very often in London. The whole summer I spent there, I was never in danger of staying out too late or meeting someone who might hurt me in interesting ways or making a single bad decision. I was paralyzed by the thought of spending too much money. I spent too much money anyway. I tried to go on one Tinder date, but as soon as I got to the bar the guy said he was actually in Bath, sorry, and I didn't try again.
I went to coffee shops to feel productive. I worried I was wasting my university-funded summer by doing the same thing I'd be doing in New Haven. I worried there was no way not to feel like I was wasting my summer, or my life. I failed to write anything but pitches. None of them were accepted. I kept googling, googling, googling, "best coffee shop in euston," "best happy hour in soho," "best vintage store in notting hill," trying to have the best of everything, trying to manufacture an experience that would make me truly believe in the objectively fun time I knew I was having.
I'm thinking about the time I decided to walk home a different way than my app was telling me to. I'm thinking about that late afternoon, which was gently warm and cloudy and felt like butter. And the sky, which was both gray and bright in a way that made the roses in front gardens look luridly pink against the neat brick houses of Chalk Farm. The roses were like the rose in Beauty and the Beast, so pink they glowed. When I was a kid that rose made me think of chewy, sticky candy. Or a jewel you could eat. These roses were like that.
I was sick of walking on Camden High Street, which was crowded, tacky, and by then familiar. I took a different road. Parallel, I thought. Easy to get back if I needed to. The road slanted. I had no idea where I was. I kept walking, hoping that if I stuck to a plan, any plan, it would work out. I got more lost. I needed a coffee shop so I could check Google Maps. My whole life is a never-ending search for a coffee shop. I had been to so many at that point in the summer. Avocado, halloumi, flat white, fake grass, freelancer's table. Everything was always so Instagrammable. At one of the best coffee shops in Hampstead the bathroom was behind the dishwasher's station. I squeezed past the dishwasher, a skinny teenager, and could feel that he hated me, and could feel that he was right.
This story ends with me finding a coffee shop. I turned a corner, and there it was: yellow awning, wire tables out front. This is the lamest and most predictable end to this story ever. As soon as you turn a thing that happened to you into a story it gets boring. You give away the best part, which is that something happened, because usually nothing happens. The thing that makes the story seem like a story is the exact thing that makes it fail as a story. This is why sports movies suck ass.
But I am trying to express how good it felt to find that coffee shop. I am trying to make you understand that it felt like serendipity. The coffee shop was in the middle of blocks and blocks of houses and apartment buildings. It seemed like it came out of nowhere. I went in and ordered a flat white from a handsome Polish barista and then ordered a slice of cake too because they had a debit minimum and then I used the WiFi and then I found my way home. This is the story. This is the thing that happened that I am still thinking about, now, almost a year later. This is what strikes me as remarkable. I know. I know. But imagine if it was you. If you were walking, lost, and found a coffee shop just when you needed one.
These days, I take walks, and I always know where I am going. If I don't know where I'm going, I at least know what I'll find: more houses, more roads, more empty shops, more flowers, more parks, more masked figures to carefully avoid. I smile, and then I remember they can't see my smile through my own mask. If I need to piss I'm out of luck. Same if I'm thirsty. Same if I'm lost. But I could hardly get lost, now: my phone works again. It always knows where I am.