Dining Out, Dining In
On cravings, camp, and the chef I can't stop instastalking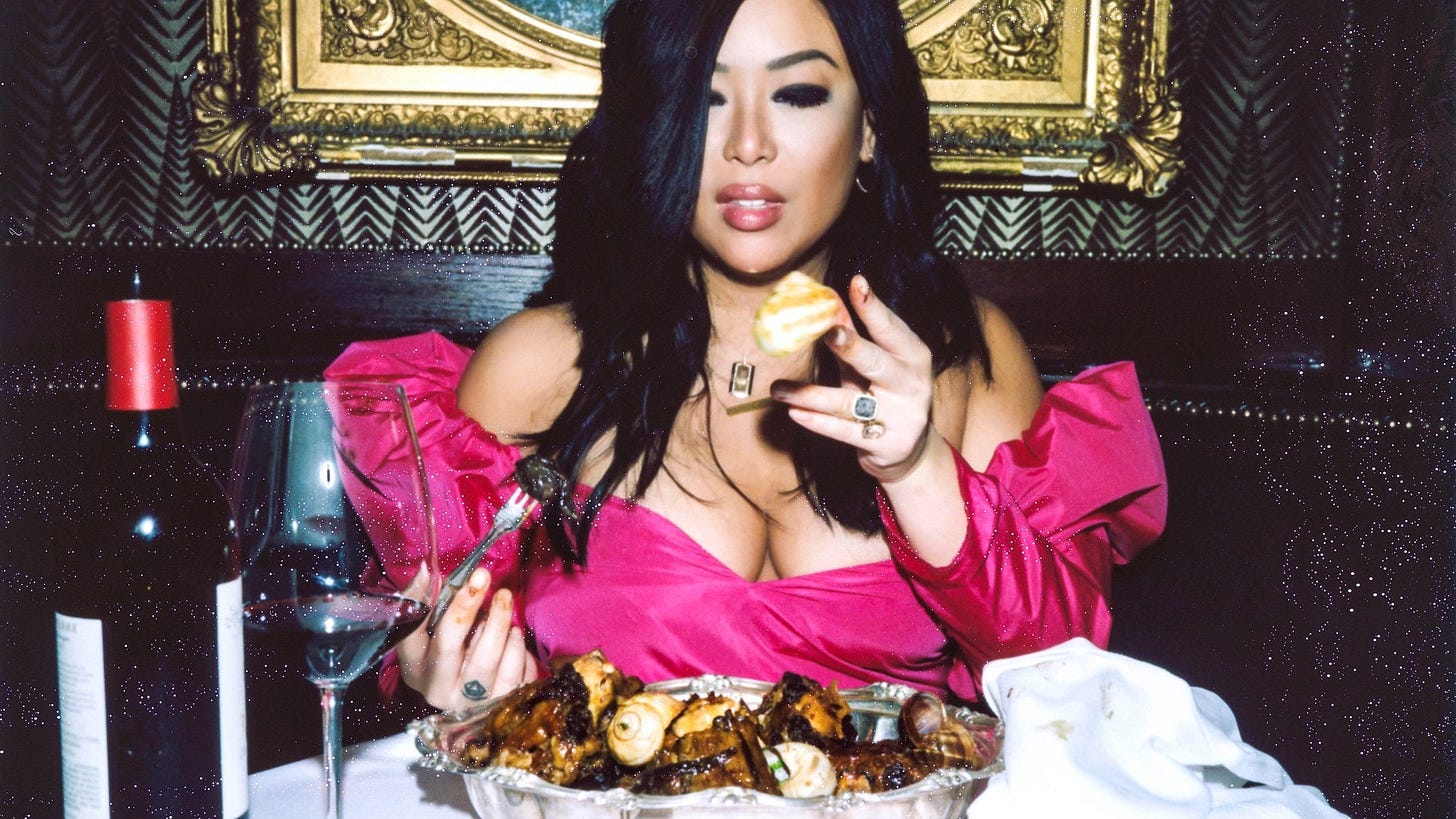 I've recently developed something of a fixation on a chef named Angie Mar, who owns the Beatrice Inn in New York. I will never eat there. For one thing, it's hideously expensive, and for another, the menu is almost entirely meat. (I've been a vegetarian for years, only occasionally breaking when I'm traveling and don't want to look like an asshole.) Even if I could afford it, I would not choose to eat at a restaurant where the appetizers are either "Raw" or "Barely Cooked;" where the entrees are a choice of "From the Sea," "Of the Land," or "Butcher's Blocks for the Table;" where even the creme brulee comes served in a cow femur. It just isn't my scene.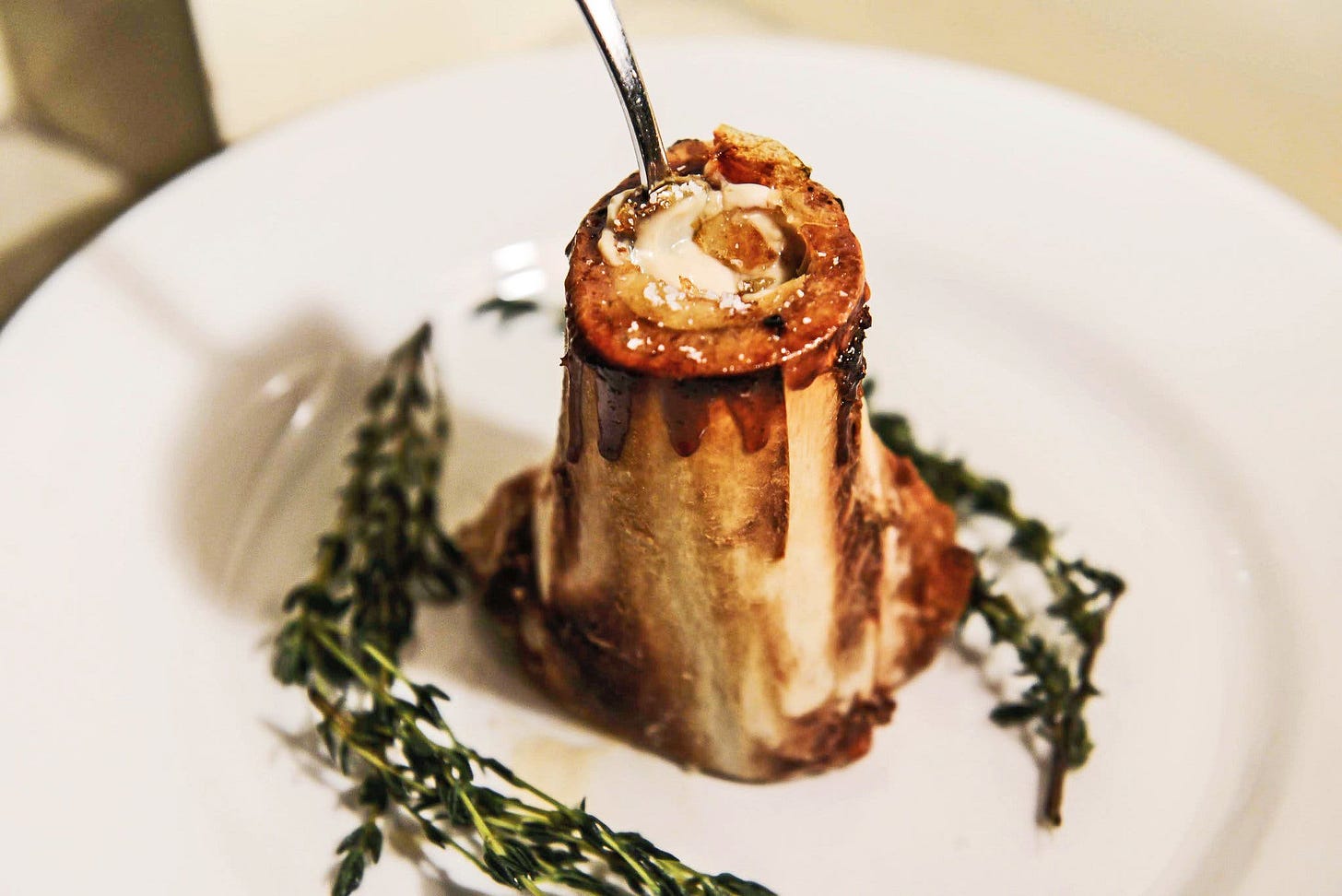 So why am I so hopelessly obsessed with it? Why have I read every article about Angie Mar and the Bea (as it's affectionately known) that I can find online? I mean, look at this description, from Mar's Grub Street Diet, of the launch party for her cookbook, Butcher and Beast:
At 7 p.m., I arrived at the Bea for our soiree. It was a fantastic affair, with towers of fried chicken, a carving station of dry-aged prime rib, whole tomahawk bones that were roasted and slathered with peony-and-scallop butter (a new creation of mine and my current obsession on our menu), our dry-aged burgers and osetra caviar and French fries. We of course had smoked Manhattans, and Champagne filled the room, with people drinking from splits through straws and the sommeliers pouring glasses out of magnums. It was a beautiful blur of a night, and my favorite part was watching my guests scoop obscene amounts of caviar onto their French fries and gnaw on rib bones, butter dripping down their arms onto their tuxedos. I always adore a bit of debauchery with my parties. Everyone's inhibitions go out the window and that is when the real fun begins.
I dislike hard liquor and despise fatty meat. I've never eaten caviar, I hate shellfish, I think beef is killing the planet. And I have never read a description of a party I wanted to be at more. I want it! I want peony-and-scallop butter to drip down my arms and onto my tuxedo. I want my own magnum of Champagne, none of that prosecco bullshit. I want the verbs slather and gnaw and the adjectives smoked and obscene. I want to eat and eat and still be hungry, the way Mar always seems to be hungry (after dinner, she went out for sushi). I want to be nothing but an appetite in a room full of people who are also nothing but appetites, and I want gilt-edged mirrors and dark wood tables and, somehow, cigar smoke, even though smoking in restaurants has been illegal in New York since 1995. I want chaos; I want to be jostled by a waiter who then yells at me; I want a sommelier to spill red wine on my sequined dress.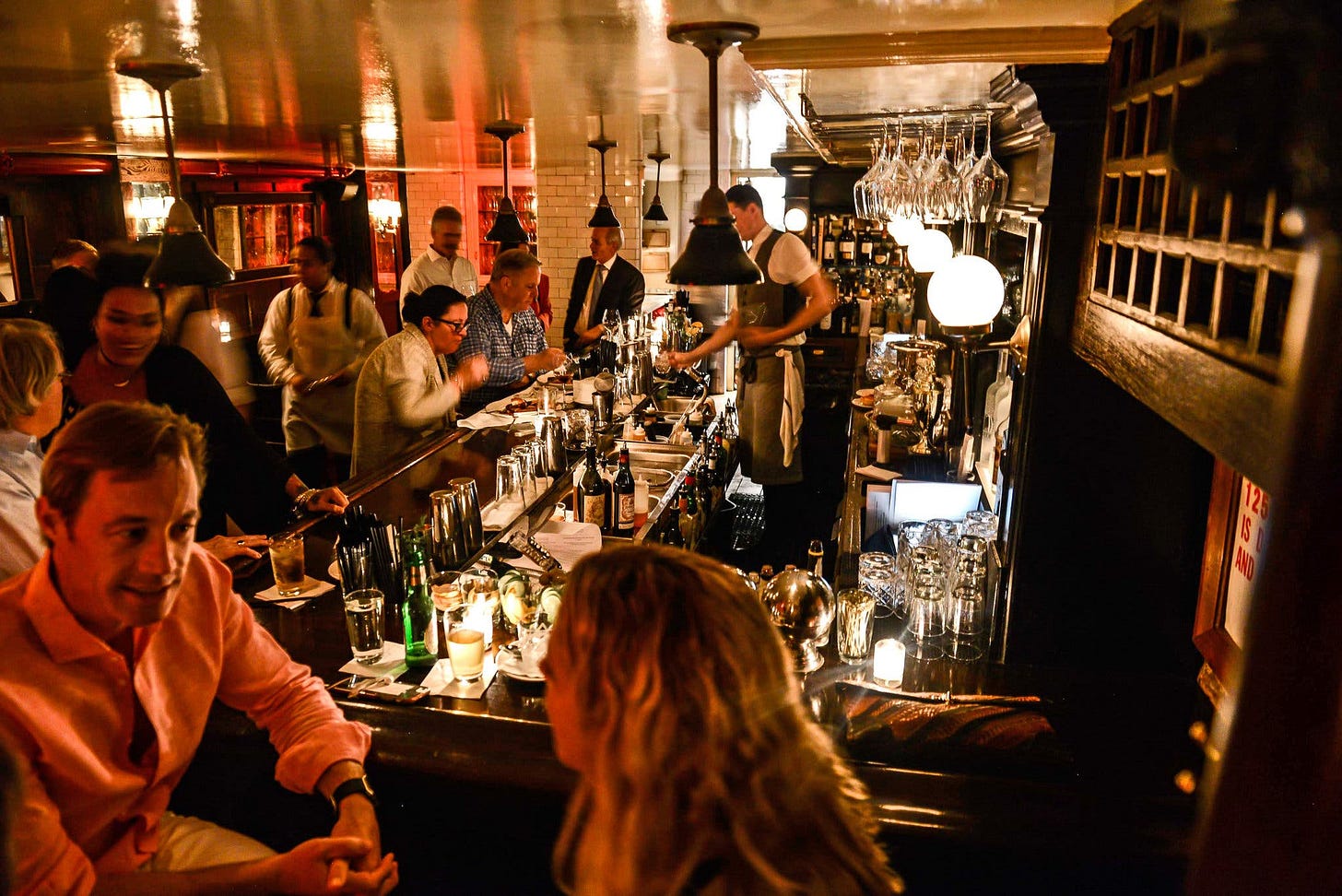 These are the kinds of decadent and bourgeois fantasies that I would've rolled my eyes at three weeks ago. Feel free to roll your eyes at me. None of this is radical, or even morally defensible. Eating caviar is not subversive. Buying Givenchy is not feminist praxis. And beef is killing the planet.
But there's another kind of bourgeois fantasy that's been much more fashionable lately, both immediately before and during the pandemic, and I'm sick of it. I'm sick of cooking stew and wearing linen. I'm sick of hearing about Rancho Gordo's exclusive "cool-kid" bean club. I'm sick of the idea of splurging on beans in general. I'm sick of low-ABV cocktails that cost just as much as regular cocktails. I'm sick of Glossier, Everlane, "wellness". I'm sick of unfussy elegance and "nothing fancy," an aesthetic which nevertheless has rigorous class-based rules that divide the in-group from the out-group. I'm sick of dining in and staying home. I want feathers and crowds and sex and, if not dry-aged prime rib itself, perhaps the idea of it.
If that sounds like an attack on Alison Roman, author of the cookbooks Dining In and Nothing Fancy, famous for her simple and Instagrammable recipes, recently anointed the "domestic goddess of the apocalypse" — well, it is, a little. The fantasy of the effortless cool-girl home cook just isn't hitting like it used to. Not when there's no one to have over. Not when I'm home all the time anyway. Not when "dining in" isn't a choice, but a social mandate.
I like Roman a lot, to be clear. I cook her recipes all the time, I think she's funny and hot, and I recently re-watched a 37-minute video of her cooking Thanksgiving dinner for her friends just to feel something. I don't think all of her recipes are brilliant — a lot of them don't quite work how they're supposed to, or could really use a little more acid, or lean way too heavily on turmeric — but they're comforting and easy and telegraph good taste. In the Before Times, I made her chickpea stew — sorry, The Stew — constantly. Now? I'm cooped up and I'm lashing out! How dare you expect me to get excited about stew. Fuck your two cans of coconut milk! Fuck your two cans of chickpeas!
Fuck tasteful, stay-home minimalism. Give me a chef in a pink Oscar de la Renta dress with feathers on it, sawing at a dry-aged bull corpse infused with cognac, ready to serve a restaurant full of insufferable, social-climbing human animals.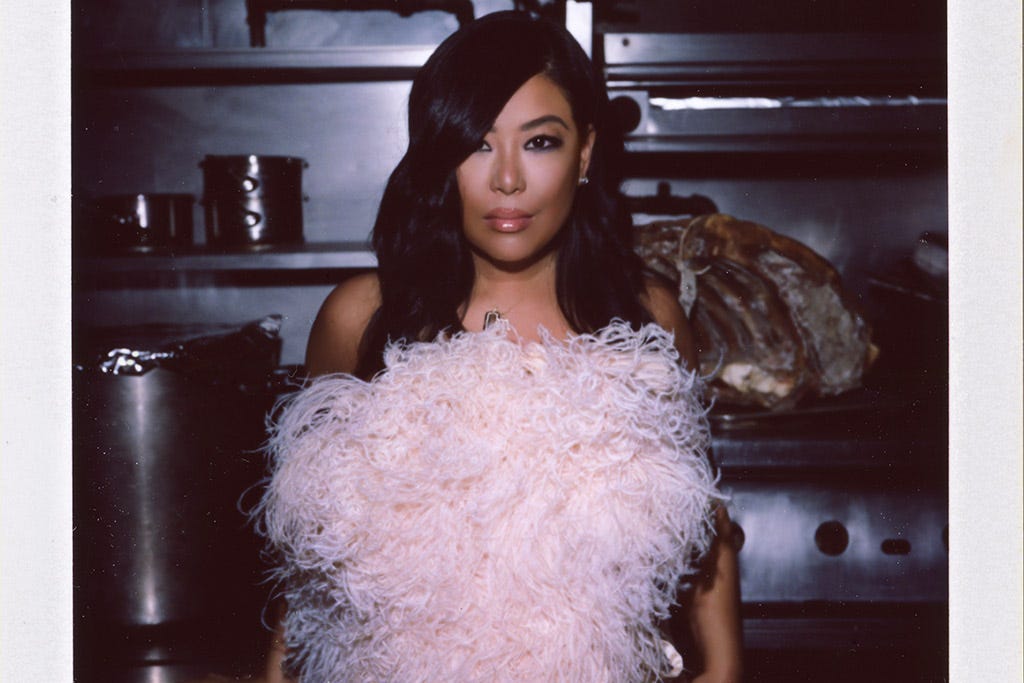 Part of the appeal of the Beatrice Inn is, of course, simply the desire to go somewhere. I'm nostalgic for parties, restaurants, the whole concept of "going out." And nowhere seems more "out" than the Beatrice Inn. It has a long history, from its beginnings as a Prohibition-era speakeasy to its days in the early 2000s as a celebrity nightclub. Vanity Fair's Graydon Carter owned it for a while; The Cut once published a breathless oral history of its 2006-2009 heyday as the place "where Harley Viera-Newton was recruited to D.J. for Dior" (among other things) which is frankly too annoying to read. I'm critical of the part of me that's attracted to celebrity, exclusivity, and the "media elite." But I can't deny the aura of the Bea. It was and is a place to rub shoulders with… who? Does it even matter anymore? Isn't the allure of being able to rub shoulders with anyone enough right now?
Part of it, too, is Mar herself. She exudes a draggy femininity that verges on camp. One photo from Butcher and Beast shows her descending the stairs to her subterranean kitchen in a lace-and-leopard bustier, red satin half-slip, and fur coat, while clutching a bottle of liquor and being led by a skunk on a leash. Another has her in a red gown, all legs and cleavage, dangling a dripping forkful of wild boar tagliatelle over a silver bowl while a taxidermied boar head rests, snarling, on her lap. The boar's ire seems directed at the ribbon of pasta, but it lays across her gently, like a lapdog: the boar isn't angry at the murder of its countryman, it's hungry.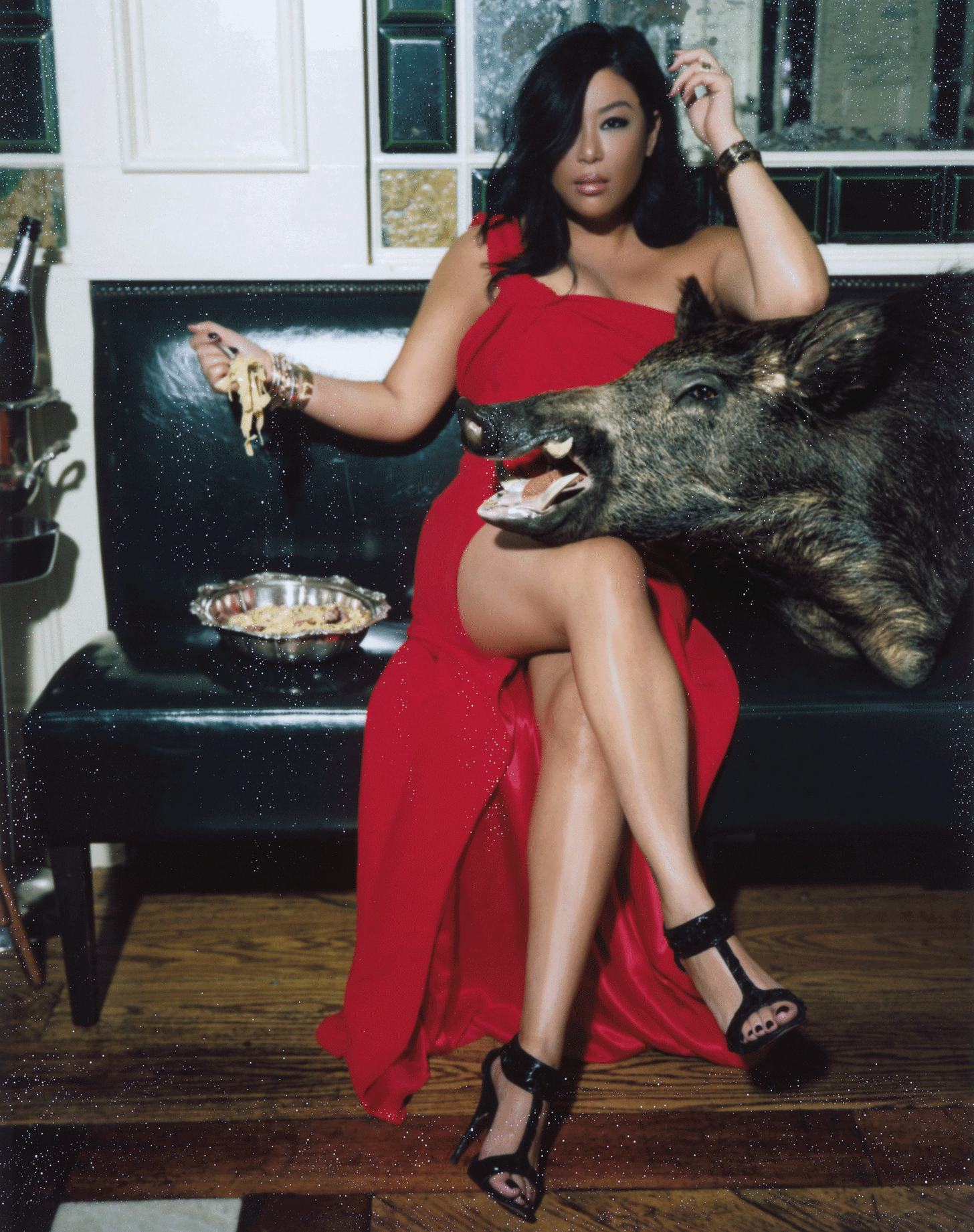 Angie Mar belongs to a type of woman I've always found highly compelling. Brash, brazen, over-the-top, glamorous in a way that screams effort, attractive as a matter of composition rather than rigorous thinness or obligatory youth or perfect bone structure. The kind of woman my mom would describe as "very done." Think: Mae West. Think: Dolly Parton. Think Sophia Loren in her 80s. Kimora Lee Simmons, now. Cardi B. The sky pirate matriarch from Castle in the Sky. The cast of Mob Wives. Cher.
I don't believe that the labor of femininity is liberating (or that the cast of Mob Wives are fun feminist role models), but it is kind of a relief to think of sex appeal as something you can construct with objects rather than a formula that relies on dewy skin, a 24-inch waist, and the denial that any labor exists at all. (I am not enlightened enough to not care about sex appeal.) Remember that "eyeliner sharp enough to kill a man" era of Tumblr lib feminism? Obviously it was bullshit. But I still prefer it to the "facials were done daily before the wedding" brand of #nomakeup classism disguised as "activism." For me, a woman who is not thin, who does not have perfect skin, who already looks older than I am—the ballsy and unnatural sexiness of women like Angie Mar is aspirational. I can't picture myself looking like Gwyneth Paltrow. But I can picture myself in twenty years drinking port and smoking a cigar in an inappropriate neckline.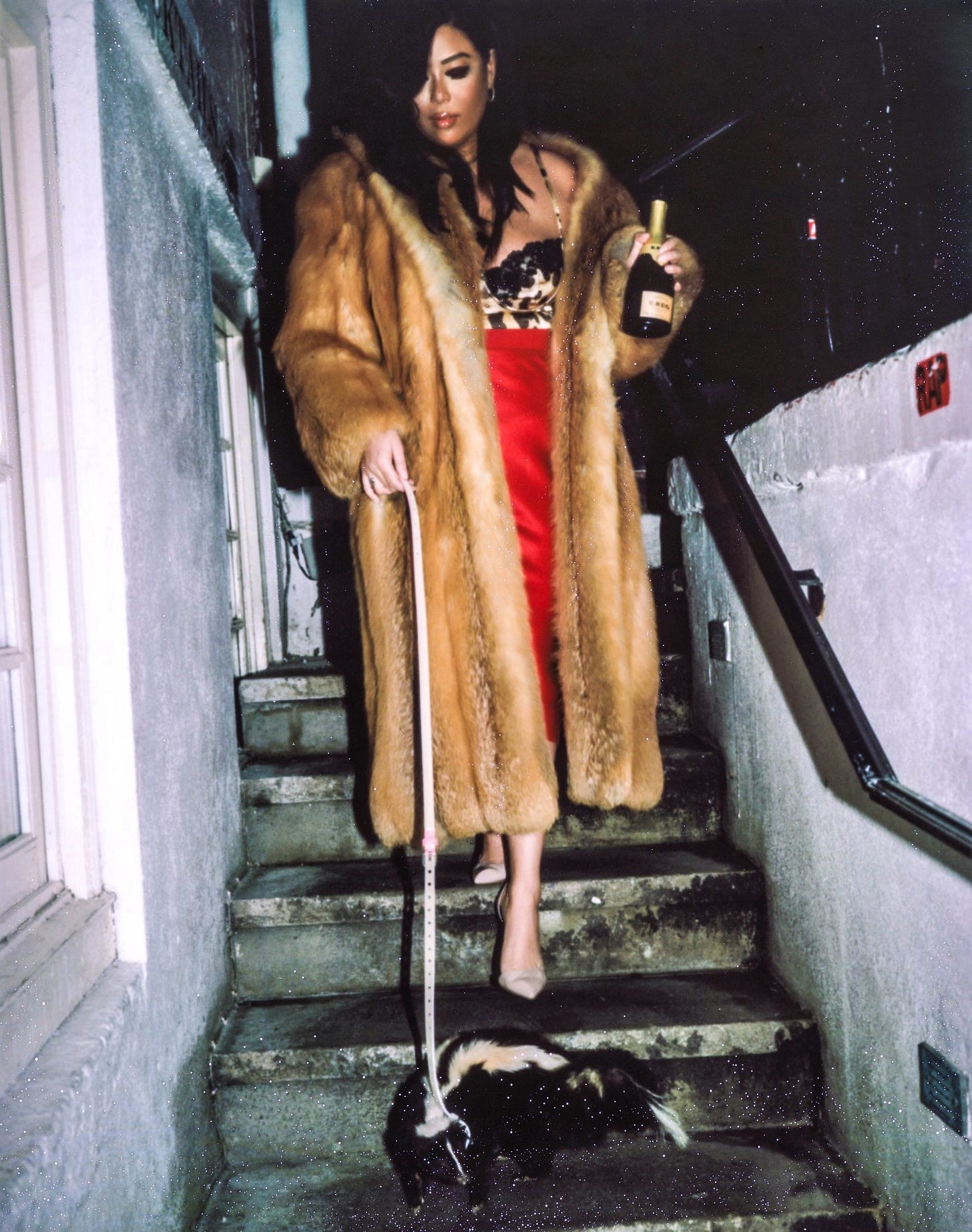 The other thing I love about Angie Mar is her appetite. Besides her typical breakfast of a bodega coffee and an extra-slim cigarette (ugh, how very cool-girl, my least favorite adjective ever with the possible exception of French-girl, which could also apply here) Mar always seems to be eating a lot of whatever the fuck she wants. On one level, she is allowed to do this because she is not fat. On another level, any woman who could be thinner and eats a lot anyway is rejecting some kind of paradigm. I have been a woman on a diet logging the calories from powdered non-fat peanut butter and egg whites and I have been a woman on a bender inhaling fries and Victory Sour Monkey, and I have never, not once, felt that my appetite was neutral or acceptable. The hunger of women is always suspect. If you are not a thin woman, it is despised. All my life I have watched my mother insist she doesn't want any of the dessert she spent hours making. I have pushed napkin holders in front of my plate so no one can see how much I'm eating. I have snuck food, and hated myself for sneaking food. I have been hungry, and I have hated myself for feeling full. I have joked, many times, that my greatest act of feminist defiance will be developing gout.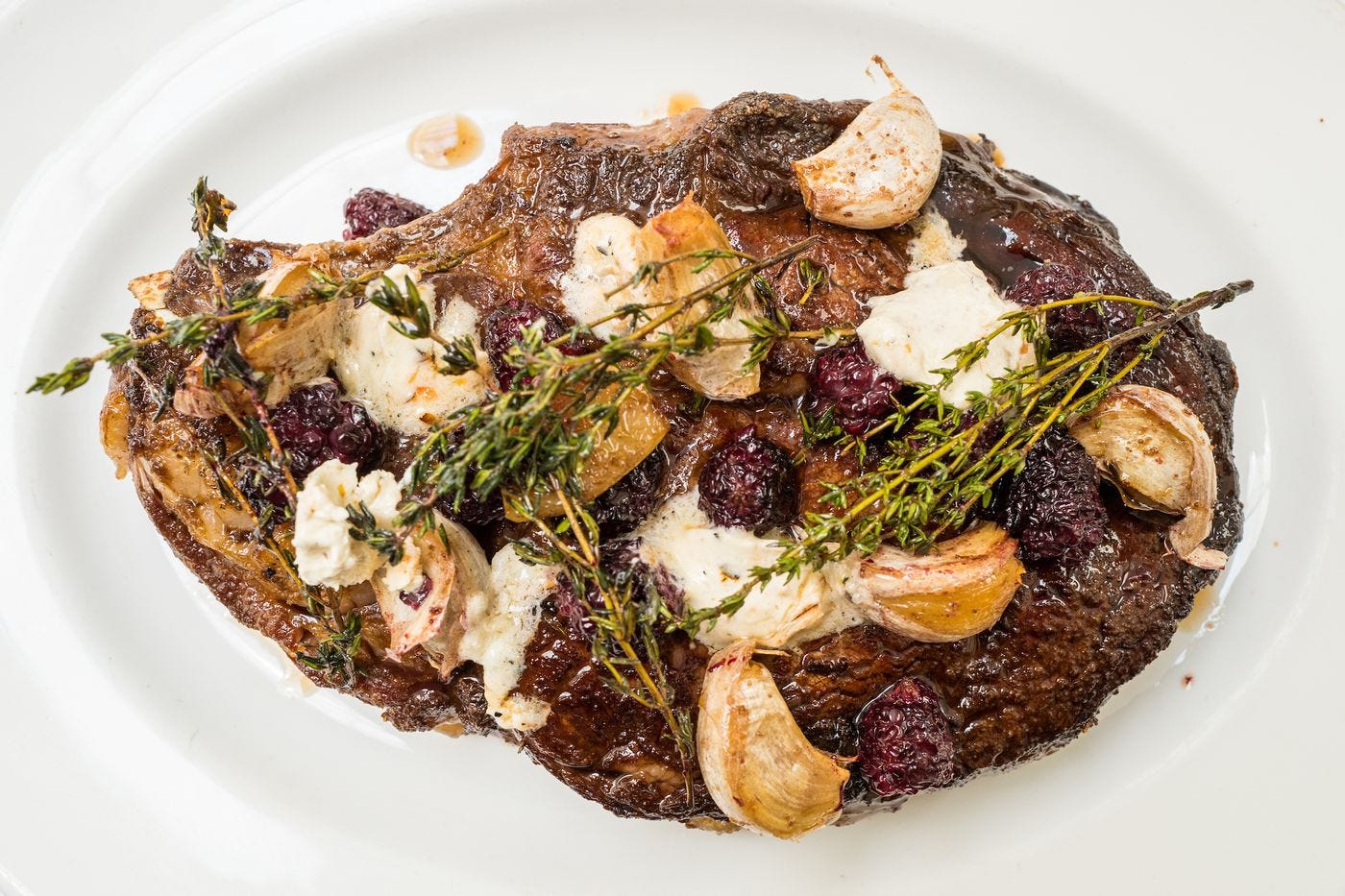 Here are some more lines from Mar's Grub Street Diet:
"We went downstairs, and hid in the corner of the prep kitchen, stood over a garbage can, and ate a 60-day dry-aged côte de boeuf with leftover rice from family meal and a bit of dijon. We ate with our hands, like savages, passing the rib bone back and forth, silently."
"Now that I think of it, perhaps that is the breakfast of champions: liver and gizzards."
"I always say that when I die, it will be surrounded by dead animals and Mexican food."
"I ordered four Peking ducks as a midcourse and my brothers were concerned that it might not be enough. We paired it with magnums of Dom Pérignon, and of course there was mezcal on the table with Tsingtao in buckets on the side."
It's poetry! It's catharsis. It's an image of hunger, sometimes the solitary kind, but also of social hunger—whether she's eating over a garbage can or at a high-end Chinese restaurant, food is a communal experience. I think that's what I'm craving more than anything. Not just the private everyday family dinner but the dinner out, the dinner with friends, the impromptu dinner over the garbage can. I'm craving things I've never seen or tasted in rooms I've never been in with people I've never met.
There's a lot more I could say about this, a lot more I could use to try to balance and politicize what is essentially a love letter to luxury in a time when 10 million Americans just filed for unemployment. The Bea, like pretty much every other restaurant, is fighting for its life right now. They've pivoted from grotesque luxury to (still pretty expensive) take-out comfort food. I don't know if it will still exist when all this is over. I don't know if its employees have health insurance or savings or a way to survive through the pandemic.
I could end with a critique of the steak-and-whisky white-coded machismo that Mar is participating in, however subversively. I could write about how drug use, alcoholism, and sexual misconduct remain rampant in the restaurant industry. I could talk about Mar's time as a sous chef at the Spotted Pig, the iconic New York gastropub that closed after its owner, Ken Friedman, was sued by multiple employees for sexual harassment. I should certainly mention that Mar, like most restaurant owners, seems like a truly terrible boss: that she's been accused of wage theft, and that she once fired her whole staff — "mercenaries," she called them — right before Pete Wells came in (an anecdote which appears in a glowing Food and Wine interview titled "Angie Mar on the Art of Not Compromising"). All of this is important. It makes a feminist reading of Mar and the Bea impossible, or at the very least stupid.
But I've tried, and I can't come to an elegant conclusion on What Angie Mar Means for The Way We Live Now. This is a private, personal essay about a private, personal obsession. The best I can do is what it all means to me.
Right before the pandemic got really bad I went on an admittedly reckless vacation with friends to Mexico City. We traveled, every day, to public and crowded places. I knew ahead of time that I was going to eat meat on this trip. I did not want to ask stupid questions like "tiene algo sin carne?" in my high school student Spanish. I ate grasshoppers on the first night, which felt like a nice little liminal stop on the way to flesh and muscle. We were at a nice restaurant in Roma, sweating and limp. I was exhausted and hungry and half-delirious from twelve hours of travel. The grasshoppers were crisp and spiny, tasting of the oil they were fried in, delicious with avocado. They were the only animal I've ever eaten whole.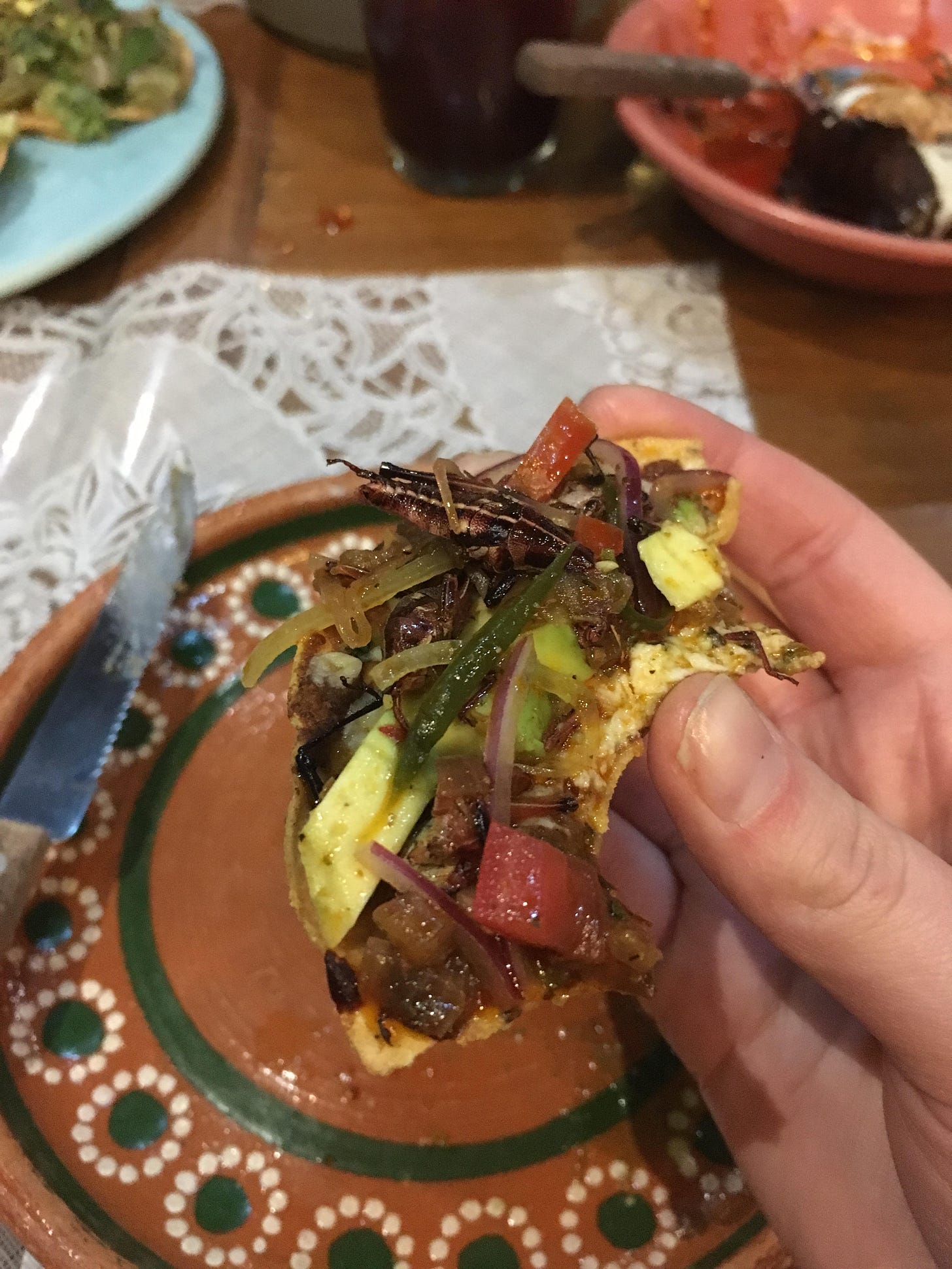 And then one day we stopped at a small, crowded taqueria after walking miles through Chapultepec, Mexico City's vast central park. The meat sat in a pile next to the taquero's grill, and he would slice off whatever you wanted: a little bit of skin, head, ear, tripe. The salsas sat in a row on the other end of the counter, with spoons that had been touched, and touched, and touched. I ordered tacos de carnitas and sat elbow-to-elbow with friends and strangers on a small plastic stool. The meat, topped with salsa verde and pickled onions and chiles, tasted so good and rich that I felt for a second like I'd never before been hungry or, for that matter, full.
I think there is a second reservoir of hunger that I rarely use in my life as a vegetarian. I think that to eat an animal can be a profound act of gratitude, especially when you eat with other people. And I think that of course this is a bourgeois fantasy as well, forty-cent tacos in Mexico City after a three-hundred-dollar flight to get there, and it is silly to mourn restaurants as a patron, especially restaurants you can't afford, and the way we eat meat in America is unfathomably cruel, and the way we eat vegetables picked by exploited migrant laborers is also unfathomably cruel, and so many cooks and waiters and bartenders have no idea how to make rent this month, and so many people are dying gasping for breath, and so many people will die for every percentage point the unemployment rate ticks up, and I can do so little about any of it, and maybe all I can say about anything at all is this:
I was hungry, and then I was satisfied, and I was not alone.
---